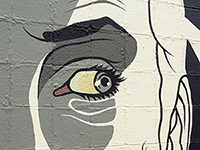 "
We shall see but a little if we are required to understand what we see
."
- Henry David Thoreau
"The real act of discovery consists not in finding new lands but in seeing with new eyes." - Marcel Proust


My photographic work seeks to freeze-frame that moment when we experience visual ambiguity/uncertainty and then instinctively reach for habituated perception to "determine" what we are seeing. As Zen teacher Cheri Huber explains, "We go to conditioned mind for a story, a label, an opinion, a belief, presupposing that everything 'should' be a certain way." Zen Master Shunryu Suzuki elaborates on this by noting, "As soon as we see something, we start to intellectualize it, but as soon as we intellectualize that something, it is no longer what we saw." Thoreau, quoted above, also points out, "Many an object is not seen, though it falls within the range of our visual ray, because it does not come within the range of our intellectual ray – that is, we are not looking for it. And so, in a sense, we find only the world we look for." Purposefully enigmatic, my images are intended to elicit and prolong a state of not knowing. In Buddhist terms, this could be called "beginner's mind" in which all possibilities are available. Zen Master Thich Nhat Hanh perhaps summarizes these concepts by indicating, "For things to reveal themselves to us, we need to be ready to abandon our views about them."

Derived from urban environments, my images are the result of serendipity; they are neither staged nor manipulated.

"Elizabeth captures the layers of visual communication that fill built environments, finding moments when our highly designed world coalesces into a new image. Her work has a playful Pop aesthetic, but at its core is a serious investigation into what is 'real.' She involves the viewer in a game of interpretation, which might ultimately remain ambiguous, yet in the meantime delights with the pure pleasure of engaged seeing," explains gallerist Danielle Fox of Slate Art, where Elizabeth has been represented.

Berlin-based artist, curator and journalist Benjamin Heidersberger refers to Elizabeth's photographs as "intelligent pictures." Heather Green, who curated a solo show of Elizabeth's work at Stanford University, notes that "Elizabeth's photography disrupts viewer expectations and upends habitual ways of seeing." Richard Friswell, Managing Editor of ARTESmagazine and also a Wesleyan University faculty member, states that "Seeing isn't always believing in Elizabeth's clever blend of fact and fiction. Her playful constructs blur the lines of reality with a gentle yet unrelenting sense of irony. Her work could be described as 'trompe l'oeil photography' – images that fool the (perceptual) eye." Jessamyn Fiore, Co-Director of The Knockdown Center in New York City, where Elizabeth has shown her work, observes that "Elizabeth effectively employs the use of conflation to re-orient our perception and to re-organize our thoughts about what we think we are seeing." Oakland-based artist Amy Sollins remarks that "Elizabeth skillfully de-contextualizes, and then re-contextualizes, images from our constructed environment, challenging preconceived notions." Finally, gallerist Jan Watten of Gray Loft Gallery, where Elizabeth has exhibitied her work, praises Elizabeth's photography as "embodying the spirit of Henri Cartier-Bresson by invoking 'the decisive moment,' encapsulating both the spontaneous and ephemeral."
Image: Untitled (Berkeley), 2016